Today was an excellent day! I'm really glad it was too. I was needing a lazy day of awesome and that is what I got. I don't work on Tuesdays, so I usually make plans to do a bunch of crap I've been meaning to take care of. Usually I do it. Not today. Typically, that wouldn't be a happy thing for me. I like to be productive and I like to make accomplishments. There are only a few feelings I like more than crossing something off of my to-do list.
This morning I took care of some Army business then I came home to my ridiculously messy room and turned on some Gossip girl. It's not my favorite show ever, but I'm totally in love with the Chuck Bass/Blair Waldorf dynamic so I keep watching it...That means that my room didn't get cleaned (I did do laundry though! I can stop looking like hobo at work and I can quit wearing my sister's clothes!)
Also, my birthday present from my sister
finally
came. My birthday was May 14th...so it's pretty late. But it was totally worth the wait! Check out my brand-spanking-new
Gem Wallet
.
I have been waiting for this thing forever and I'm so excited. I carried it around everywhere I went today even though I barely left my house...
After I discovered my wallet and did some more procrastination and Gossip Girl watching (totally absurd what's going on by the way...) my mom reminded me that we had plans to go out for dinner to celebrate my joining the Army. She also informed me that she and my aunt had already picked where we were going. Luckily, it was BBQ place that was delicious so I wasn't annoyed :D
We went to Famous Dave's. That must be Dave on the menu, but I'm not exactly sure.
I had this thing with two meats (I picked chicken and pork mmm...) and these mashed potatoes that were to die for delicious and potato salad. And that corn bread? Might have been the best I've ever had.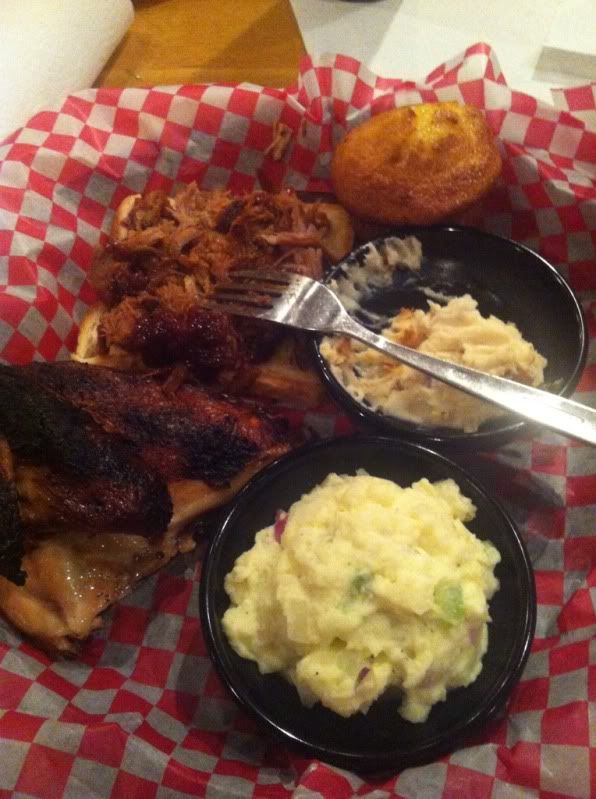 My sister and my cousin thought they might try the extra hot BBQ sauce...Bad idea. You can see my cousin in the background (not posing!) with that holy-crap-this-stuff-is-hotter-than-I-would-have-guessed look on her face.
Basically, it was just a really awesome family filled day of laziness that was a long time coming...And we all celebrated me being able to join the Army. That is a far cry from the crying and head-shaking that came with me joining the Marine over a year ago...
Love it when I can come home and write a post like this.