This morning, I opened my work email to find this gem about the TV in the break room...I thought it was funny so I thought I might share it:
"All DVD's must be approved by management. Even though a few of us enjoy The Walking Dead, not everyone wants to watch a zombie decapitation while eating a pepperoni Hot Pocket."
And after I laughed inappropriately at this I realized that I got stuck with one of the stupid office chairs instead of the comfortable ones...Needless to say, the laughing ceased.
Now, on to the real post!
I am currently obsessed with Taylor Swift's new album "Red".
I really cannot stop listening to it and I wish that I was listening to it right now...But they took internet radio away at work : (
What I like about it, is that I feel like it completely describes the life of someone 18-25.
I relate to almost every song. It's catchy and fun to listen to...it's just so good.
So far my favorite songs are
22
I Knew You Were Trouble
Red
Okay, I may as well just say the every song. There's not a single one that I don't like. I would highly recommend it to anyone that likes T-Swizzle or loves pop, because this album is...awesome and I'm in love.
Go buy it...
Winner of the Giveaway will be announced, hopefully later today!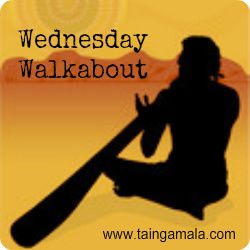 I almost forgot to share with the Walkabout today!
You can link up too at any of the following blogs.
Ready, set, go!