Today is kind of feeling like one of "those" days. You know how sometimes, you wake up (late), do a nice big morning stretch, a yawn or two, then you do a nice head jerk to the right with a gasp praying that you didn't oversleep? Well that is exactly what happened to me this morning...
I looked at the time at it was 7:50...I have to be at work a 9, and I feel late if I'm not 15 minutes early. So I jumped out of bed, french braided my hair (probably the worst new skill ever...I never shower before work anymore because a french braid looks so nice...), threw on my new maxi dress and a cardigan and out the door I went...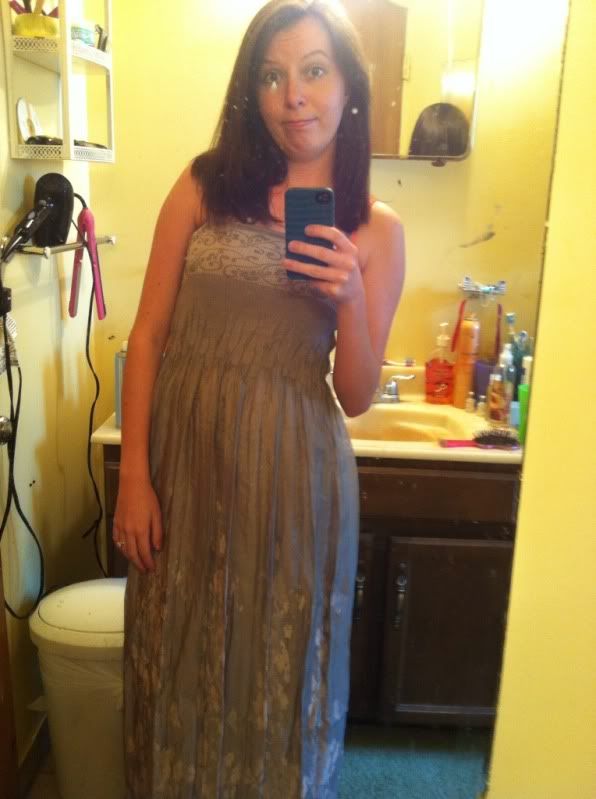 I cant take a mirror picture of myself without making that face...don't judge.
Now I'm sitting here in my cube and thinking about how my eye lids are heavy and that I don't want to be here...crappy.
In other news, I started a cute lil' Twitter account for my bloggy! You can follow me now! Katie Nay @camocolored. I'm still trying to figure out how to work it exactly, but follow me beacause I'm cool :)
Also, my order has been put in for my new design! I finally figured out how to center my photo on the top, so I'm a little less frustrated with the way things look right now. I'm okay with it until I've been offically redeisgned and more...awesomeified.
Besides that, I'm missing my favorite part of the summer this year because I'm stupid and picked up way too many hours at work. When we get really busy, they get approval for part-timers like me to bump up their hours temorarily. Seems how I only work 28 hours a week I jumped at the chance to work 35 hours for a few weeks. Unfortunately, I didn't realize that picking up tons of extra hours meant that I couldn't go with my family to this bluegrass thing I've been going to every year since I was 11 years old. :(( boo...
One upside though?! Some people that we play music with that live down the street from us are going to a JoDee Messina concert. I am soooo excited for that.
I've been listening to Jo Dee Messina ever since I was a little girl riding to school with my momma. It brings back a whole lot of really good memories and I am beyond excited to go and see her live. Now I just need to see Alison Krauss and Dan Tyminski and my life will be complete!
Well I guess that's all I have for today! Have a happy Wednesday my bloggy friends!