Oh my heavens...what do I say about my first drill with my unit as a "Pre-B" (that means Pre-Basic soldier, and I have been getting called that for two days)?
It was...interesting. First of all, I didn't know freakin' anything so I was ridiculously nervous. On top of that I was pretty late, but that was due to the whole not knowing anything. Then, they're like, "Hey, you're going to be here a while. Let's put you in a uniform. So they find me some ACUs that were thrown into a cage in supply. With some awesome ink stains, a gigantic cover, no boots, and the coat and trousers are about two sizes too big. Luckily, they didn't make me wear them yesterday.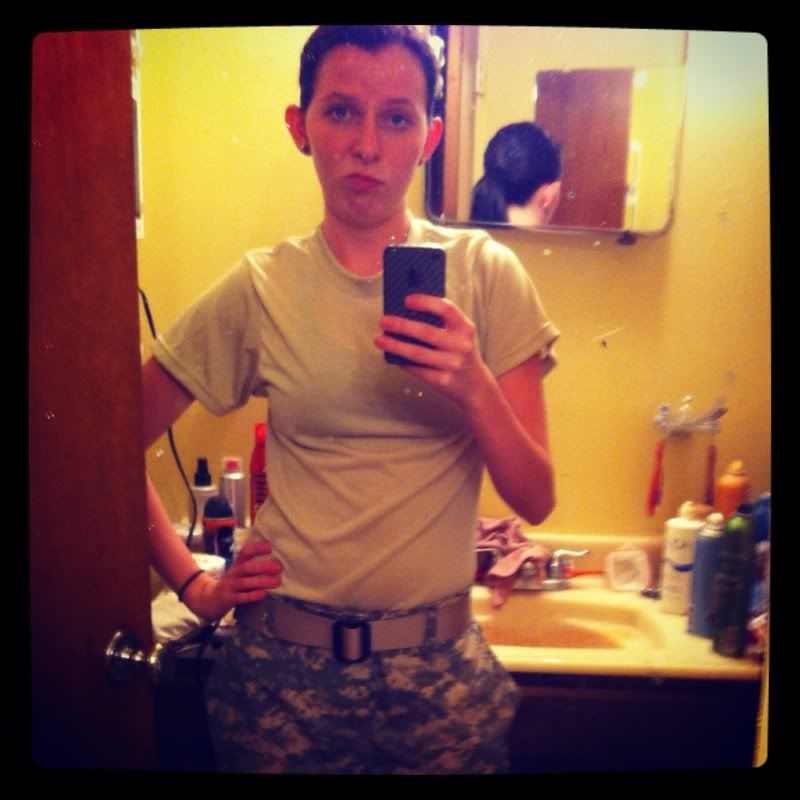 I was just trying it out so I have in my earrings still...whoops
I just did a bunch of crap on the computer and wandered around trying to look busy. It wasn't all that exciting. Today, though, I learned
tons
of stuff. It was way fun. It was a really long day, but it was nice to be moving around and feeling like I had a bit of a purpose. A few guys took care of me and made sure that I had stuff to do. It was a lot better today.
Yesterday, though, I texted my friend and bitched like crazy...I was not a happy lil' camper. I was annoyed with like
everything
about the Army. I'm so glad that today sucked a whole lot less.
Next drill, we're going to be doing a PT test. And I can tell you right now, I'm gonna pass that thing and prove that I belong there. And get this, I'm actually kind of excited about it!
P.S.--My blog design is sooo close to being so cool it's almost unreal so check back in a while and see if things around here have changed!
P.P.S.--If you haven't already "liked" my
FB page
you definitely should! I'm really excited to be expanding my blog to all types of social media. It's amazing to know that there are people out there are reading
my
words and appreciating
my
thoughts. It