First of all there's a few very exciting things going on in my blog world these days. Have you entered my
giveaway
? I'm giving away a $50 gift card to the Etsy Shop
DefineBliss
! Enter for your chance to win!
Also, I have just created a new
account just for all my bloggy friends! Click the little deal to follow me! I'm in love with Pinterest just like most other females that enjoy the internet! so come join me in pinning like crazy!
Also! I just purchased my first ad on another blog over at
Handling With Grace?
Go check it out!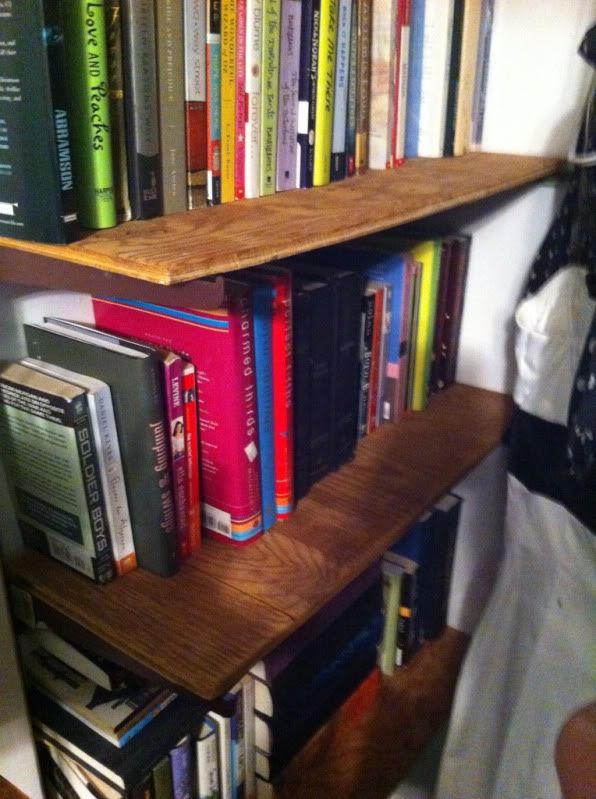 I was so excited about this week because it's about books. And I looove books. This is a portion of my closet with my alpabetized by author book collection :) I'm a dork...

1. Favorite childhood book
I was not much of a read when I was a kid. I read my fair share of Junie B. Jones and Horrible Harry, but I didn't really start to love books until Shadow Horse. After I read that book, I realized that as long as your reading something that you are enjoying, reading is freakin awesome.
2 . Favorite Book lately
It has been a long time since I have sat down and read a book...It's amazing how easy it is for life to get in the way of something as simple as reading! I think the last book that I read and was completely in love with though, was Flowers For Algernon. I cried and cried but it was so good. I so feel for the poor guy...All he wanted was to fit in and have friends...
3. Book you wish you could live in.
I would definitely live in Harry Potter. I am a total Harry Potter nut and I have been since I first started to love reading. It would be so amazing to be a part of that awesome magical world that JK Rowling created...
4. If you could be any character from a book who would it be and why?
I would definitely be Huckleberry Finn. I have always loved Mark Twain and I am obsessed with Huck Finn. Sure Tom Sawyer is cool, but Huck is so much more
adventureous. I also think that he has completely pure intentions in everything he does. I think that we're similar in many ways, but he has the courage to do
things that I wouldn't.
5. Favorite Book turned Movie?
Holes. Definitely loved Holes. There were several inconsistencies but I loved the way that they presented it. It was probably one of the books turned movie that I didn't have complaints about.
6. Favorite Magazines
I really only read Cosmopolitan Magazine. I think it's hilarious to read all the stories and advice. It's so funny to me how they talk about everything...It's hilarious to me!