First of all, have you liked my Facebook page? No? Well there's a cute lil' icon to the left that you can click to like it!
Are you following me on Twitter? Well there's an icon for that too! Follow me. :)
Instagram? That one is my favorite! Follow me! And I want to follow you too. It's the bomb.
And that's all the shameless promotion for today!
Usually, this number on the scale would be one that people would see and be like "Wooooo! I'm awewsome!" Not me. My minimum is 107 for my height and it's definitely a problem that I'm weighing about this much on average.
When I originally enlisted this was my biggest problem. I was running like a maniac and not eating enough food. Well, it looks like we meet again! I think that it's probably even worse this time...Before, it was just kind of natural, but this time, it's different.
When J and I broke up almost two whole months ago now, I stopped eating. Not by choice. It wasn't anorexia...It was just hard to eat. I didn't ever want anything. Nothing looked good and when I started to eat, I couldn't finish anything. It's getting a little better and my appetite is returning, but I'm still working out more than I'm eating.
It also doesn't help that I've become insanely competative. I don't know where it came from, but all of a sudden, it's not enough for me to just be good or okay. I have to be the best. I must be the fastest, strongest, most motivated person in the world in order to come out on top. So I spend all of my free time in the gym burning calories...
This is how I'm going to fix it!
I bought myself a little present a few days ago.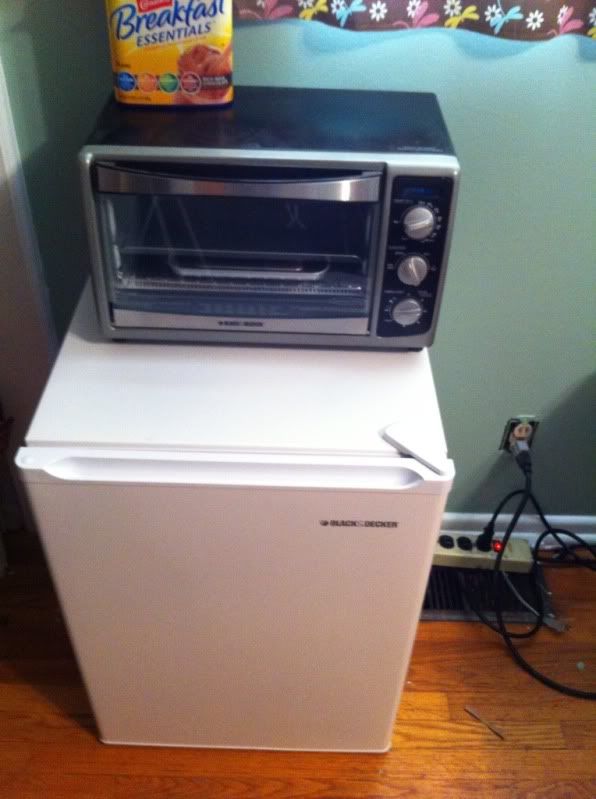 Yes, I bought a fridge. I got the toaster over for Christmas. So I basically just installed a kitchen in my bedroom.
The idea is that I'll be able to have all my own food that won't get eaten by my family. It will be more accessible, and uh, I can toast things without leaving my bedroom. I toasted myself some lil' bagel bites last night just to be awesome.
I know, I'm awesome ;)
I also downloaded the app MyFitnessPal. I am in love with it. It tracks my calories and it shows me how long it will take me to reach my goals if I eat as much as it tells me to.
I freaked out when I saw this after I finished my food and excercise entries for that day.
I was like....AHHHH! Bad bad bad...So. I now know what I have to do to get heavier. Basically triple my calorie intake and never stop eating.
It's a good thing that it's payday!