If I didn't work every Sunday, this would so be my favorite day. This link up is definitely the highlight of my Sunday. I love to read everyone's answers to the questions and answering them myself. Today, I am so very thankful for Sundays.
Do you want to link-up with the Sunday Social? Head over to Neely's blog
A Complete Waste of Makeup
to
link up
.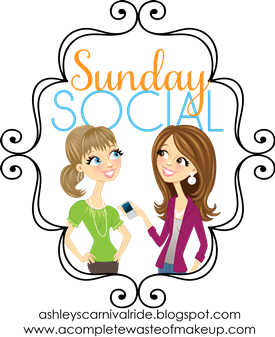 What is currently on your wish list?
I am dying to get a Pandora Charm Bracelet! I have all these charms, but no bracelet...And I want one. Bad. I'm also wanting a new iPhone case. I've been cruising etsy discovering all these adorable cases and I just...want one!
Share a new iphone, droid, ipad app you have recently discovered that we all need.
I don't have too many new apps, but here are several that I cannot live without. Voxer is probably my favorite. It connect me to on of my best friends who is, literally, living in tomorrow. We can't talk on the phone, but we can walkie-talkie. It's fantastic.
What is a new Fall TV show you have added to your DVR?
Alright, everyone, get your gasps ready. I don't have a DVR or cable or any way to record TV shows that I miss! But, I'm completely in love with Revolution. And of course, if you haven't watched the entire series of Grey's Anatomy, I hope that you're getting on Netflix right this minute to commence the Grey's watching.
Share your Social Media links for us to follow you on(pinterest, twitter, facebook, etc) Tell us which is your favorite and why.
Oh, social media...My little sister is in high school and is in a social media marketing class. Talk about relevant. I think that it's the coolest thing ever.
Saying my favorite is kind of hard. It's probably a tie between Pinterest and Twitter. Pinterest introduces me to a whole bunch of new and exciting things. I also love Twitter because most of the stuff on it is clear and concise. I think it helps you get to know a different side of a person.
What is a TV series or Movie or Song you could listen to or watch over and over and over and never get tired of…feel free to name one of each.
TV series... Okay, I'm kind of obsessed with a whole bunch of different series. Currently, I'm re-watching Buffy The Vampire Slayer from start to finish, so I guess you could say that I'd watch that over and over again :D And I may or may not have just restarted Grey's Anatomy...It's fueling my new Washington Dream. And I'd be lying if I said I wasn't currently listing to "I Will Wait" by Mumford & Sons on repeat.
Don't forget to check out my November sponsor!