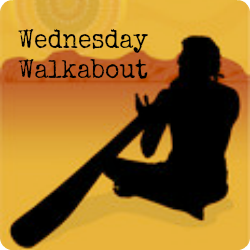 Head on over to
Taingamala
to
Link up
!
Although it's not required for the Wednesday Walk-about, I decided to do a short and sweet little "Meet Katie" post. Introduce myself to who might be dropping by!
I'm Katie, as I said before. I'm not yet 20 but sometimes, I think that I'm almost 30.
I recently joined the Army and my first drill is on Saturday.
I also recently broke up with my fiance and I'm basically a constant wreck pretending that I'm not.
I loove to work out. The gym is possibly my favorite place.
My blog started out as a way for me to document my engagement and then my life with my Marine...Seems how that didn't work out, my blog has taken quite a turn to a whole new world.
I have a lot of goals and aspirations for myself and for my life but for now, I'm kind of just working on being okay with everything the way that it is. I'm putting some things on hold and doing my best to just enjoy the things I've got going on right now and focus on the present...
If you'd like to follow my journey to being...more awesome? please follow my blog. You can also find me on Twitter and Instagram @camocolored.
I love to meet new bloggers so please don't be shy! Leave a comment or drop me a Tweet or something! I'd love to hear from you!